Proof of a higher power
Aug 8th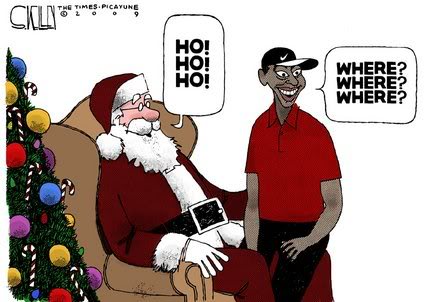 Let me say this about that.
I must admit that I am not a particularly religious guy.  To me, organized religion seems to be all about forcing narrow, single-minded dogma down our throats.  Organized religion always takes the position that their particular credo is correct, and all other beliefs are corrupt.  But one thing they all have in common is the belief in a "Higher Power". Lack of any physical evidence of this "Higher Power" does not seem to deter the believers of any organized religion, although it is one of the many things that keep me from 'signing-up'.
That is until this past Sunday when I had an experience that convinced me of the existence of a "Higher Power". How, I reasoned, could an event such as this take place without the intervention of a 'Supreme Being'? How could such a series of seemingly unrelated occurrences align themselves perfectly to provide an outcome so sublimely ethereal without the guidance of a Grand Master?
Let me explain.
Everyone on the planet is familiar with the saga of Tiger Woods.  Woods is Рor was Рone of the premier golf talents in the world.  As it turns out, he is also one of the world's great liars.  He has replaced Bill Clinton as the preeminent narcissist in America.  As for temperament, it has been said that if there were a personality contest between Tiger Woods and a 'Pet Rock',   there would not be a winner.  In short, there is not a lot 'good' to say about the guy.  Yet he has had great financial success playing a game for a living, and nothing bad ever seems to happen to this man.  In layman's terms Р"It just ain't fair".
All that changed on November 30, 2009.  That is the night that Wood's wife found proof that he had been having an extramarital affair and beat the crap out of him with a 7-iron.  As more news came to light, it was discovered that Woods was living a secret life as one of the world's great "Hound-Dogs" and was playing 'hide-the-sausage' with every floozy that could fog a mirror.
In an apparent attempt to avoid losing hundreds of millions of dollars in a divorce settlement, Woods claimed he had contracted a condition known as "sexual addiction' and could not be held any more responsible for his actions than a crack addict.  The poor man was 'ill' and checked himself into a "sexual addiction" clinic.  While most of Woods fans actually bought this incredible prevarication, his wife contended that he might as well check into a clinic to cure hiccups Рand that it was, indeed, Woods' fondness for 'cracks' that got him into trouble in the first place.
Soon, Woods' sponsors began abandoning him like he had open sores.  His coverage in the media went from adulation to condemnation.  His wife was granted a divorce, custody of the kids and a whopping nine figure settlement.  And, each week brought more testimony from a new blond-headed bimbo about Tiger's prowess in the sack, or the dimension of Tiger's Tool, or Tiger's insatiable appetites, or whatever.  But, worst of all, he could not take time to play in any golf tournaments.
Finally after a return to play in the 2010 masters, Woods career as a golf professional could only be characterized as "lackluster".  It got so bad that during the 2011 Players Championship this past May, Woods just finally gave up and withdrew from play for three months Рclaiming injury.  Apparently whatever was injured did not require a return visit to the sexual addiction clinic.
On the third of July, of this year, Wood's held a meeting with his caddie of thirteen years, Steve Williams, and fired him …. fired him as unceremoniously as he had done with his¬†two previous (world class) coaches, Butch Harmon and Hank Haney.
Big surprise to Williams, but he soon found a permanent job carrying the bag for up-and-coming young pro, Adam Scott.   This week, Steve Williams and Adam Scott (only one week after Woods announced that he had fired Steve Williams) teamed up to win the 'Bridgestone Invitational'. Williams collected $140,000 for his caddie's share of the $1.4 million winners purse.   Tiger Woods finished in 37th place to earn winnings of only $58,500 !!!!!
Tiger Woods can't even make as much money as the caddie he just fired?!?!   Now, how can anyone now deny the existence of a "Higher Power"? Yes Virginia, there is a God.
And, that's all I have to say about that.
Shambo