Sep 8th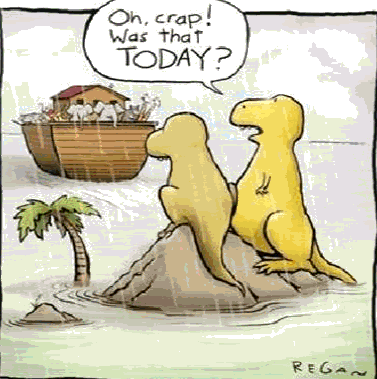 Let me say this about that.
Human beings are a funny lot.  We seem to think we understand the world we live in quite clearly.  However, as I have aged, I am beginning to see that I don't 'really' understand a helluva lot.  Allow me to illustrate.
How do you make a question mark in Chinese? One must presume that the billion or so Chinese people in the world occasionally ask a question.  Sometimes they probably even reduce their question to writing.  How are they able to tell the difference between the same phrase (one expressed as a question and one expressed as a statement) – without a Chinese question mark?  For example …. "You need fortune cookie" (a statement extolling the virtues of the possession of a fortune cookie) – versus - "You need fortune cookie?" (a question concerning your desire to possess a fortune cookie).  Hell for that matter, when is the last time you saw quotation marks in Chinese.  Hmmmm.
How did dinosaurs mate? Unless you are a believer in the literal interpretation of the Old Testament, the beginnings of life on this planet become a bigger mystery with every new paleontological discovery.  For example, dinosaurs roamed the earth for over 180 million years.  That's 10 times longer than the number of years the human race has lived here.  One has to assume that dinosaurs were a hearty breed, capable of overcoming all sorts of challenges to procreate and thrive.  But, I have never heard a explanation of how dinosaurs mated.  You know they had to "do it" to be able to make little dinosaurs for 180 million years.  But how would (for example) a male 'Argentinosarus', that was 120 feet long from head-to-tail, and weighing in at 200,000 pounds, go about mounting a female?  I mean, just getting past her…    (more…)