Swine Flu or Lemming Flu?
Jun 22nd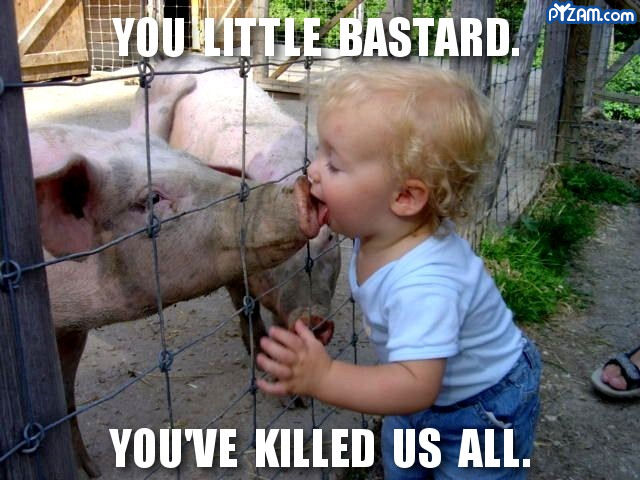 Let me say this about that.
Americans love a good panic.  The stock market is crashing!!  The housing market is dead!!  Terrorists aren't putting their shoes through the X-ray machine!!   A-Rod is a doper!!  Brad dumped Jennifer !!  Swine Flu is gonna kill us all!!
Yeah, yeah….we're all gonna go broke, and we're all gonna die, and probably end up some place completely devoid of virgins.
The panic du jour?  Swine (H1N1) Flu.  America is in a panic because the nation's press told us that we should panic, shut down schools, stop all travel, wear your surgical masks, and huddle in the basement to await the ultimate doom.
What the hell ever happened to common sense in this country?   And, when did actual facts go completely out of style in journalism?  
Facts?  Let's try on a few and see if we are in a panic over a good cause.   The CDC (and other credible sources) report the following statistics for annual deaths in America:
Smoking – 443,000 dead
Poor diet / lack of exercise – 365,000 dead
Car crashes – 42,000 dead
Suicide – 31,000 crazy AND dead
If we are going to panic, let's do it over something that actually has a chance of killing us……say, a chain smoking fat guy, bent on vehicular suicide. Now there is something that would get our panties in a wad.
All of these, less a few unfortunate car crash victims, are completely preventable, without a pill, or vaccine, wearing a surgical mask, or a declaration of a world wide pandemic.
Regular 'ol garden variety seasonal flu kills an avarage of 36,000 Americans each year.  The Swine Flu Pandemic has killed (as of June 13, 2009) 44 Americans !!!
PANIC !!!!!!!!
But, through the relentless dumbing-down of America, we are in a panic over a statistically insignificant event.  We're about to jump off the cliff, simply because the lemming in front of us jumped.
Why are we in a panic over an event that has about the same mathematical chance of killing us as being gored by a unicorn?  Can you say "THE VIEW"?
And, that's all I have to say about that.
Shambo